Harrisburg Restaurant Week 2017 September 18-22nd

Choose one course from each category for only $30.
Appetizers; Firecracker Shrimp, Wild Boar Sliders, or Seared Ahi Tuna
Entrees; Portabella, Zucchini, and Eggplant Parmesan, Grilled Chicken & Steak Kabobs, Chicken Chesapeake
Desserts; Lemon Blueberry Cake, New York Style Cheesecake, Carrot Cake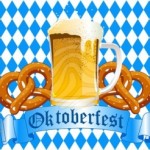 Ein Prosit!  September 25th-October 3rd, break out the steins, lederhosen and dirndls! The Sturges Speakeasy loves a good Oktoberfest party! Festivities will feature authentic Oktoberfest biers and classic German dishes to satisfy your appetite. We are featuring a different brewery almost every night of the week. There's going to be Marzen lagers for days, so stop by and taste all the Fest Biers! Das Boot may even make an appearance.
Tuesday 9/26: Victory
Wednesday 9/27: Otter Creek Collaboration with Camba Bavaria
Thursday 9/28: Ayinger
Friday 9/29: Great Lakes